CCTV Lenses for image capture, robotic and night vision systems – standard and custom lens design
Standard and custom CCTV lens assemblies for image capture, barcode scanning, night vision systems, medical systems, hi-speed imaging, machine vision and robotics vision.
Universe offers a full line of C and Cs style CCTV lenses available from stock. All formats, including hard to find 1" optics are here. We only handle premium all-glass lenses, many of our own design and manufacture. We carry many specialty lenses as well, including right angle, pinhole and motor or manual zoom. Please call us to discuss your specific application as we do not list on our website all the products we carry. We also provide filters, step rings, and many adapters to meet your C-mount imaging needs. As always, Universe is willing and able to perform any custom barrelling or aperture changes that you require.
Applications Include: – Image capturing, barcode scanning, night-vision systems, medical systems, hi-speed imaging, machine and robotics vision systems.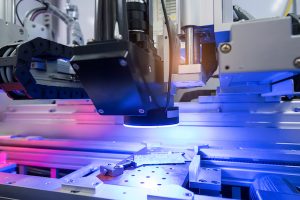 Machine Vision is the technology and methods used to provide imaging-based automatic inspection and analysis for many different applications. It is found in automatic inspection, process control, and robot guidance. It's a term that encompasses a large number of technologies, software and hardware products, integrated systems, actions, methods and expertise. As a discipline within systems […]
Recent estimates from the United Nations predict the world will need around 60 per cent more food by 2050. Precision farming will be vital in meeting this demand. The use of machine vision in the Agri-food industry will play a crucial role in the advances being made in precision farming.
Whether you are in the business of assembly operation or a fulfillment house, automating the distribution of broad and varied mix of parts or SKU's is no longer a challenge. 3D vision robotics is changing the face of bin-picking. It will improve both the accuracy and speed when it comes to sorting and identifying any […]
CCTV and Machine Vision Lens Assemblies
| Part Number | Focal Length | F/No. | Format Size | Mount | Iris Control | Dimensions (diameter x length) |
| --- | --- | --- | --- | --- | --- | --- |
| 02814-NI | 2.8mm | 1.4 | 1/3" | CS | Fixed Iris | 30mm x 31.5mm |
| 4217-C | 4.2mm | 1.7 | 2/3" | C | Fixed Iris | 30mm x 31.28mm |
| VLM-6M5.6 | 6.1mm | 5.6 | 1/3" | C | Fixed Iris | 30mm x 15.9mm |
| VX580 | 8.0mm | 1.4 | 11mm | C-mount | Fixed Iris | 30mm x 34mm |
| 0814-C | 8.0mm | 1.4 | 2/3" | C | Fixed Iris | 28mm x 20.43mm |
| VLM-8M5.6 | 8.3mm | 5.6 | 2/3" | C | Fixed Iris | 30mm x 25.3mm |
| 1014-C | 10.0mm | 1.4 | 2/3" | C | Fixed Iris | 28mm x 29.3mm |
| 6XZM | 12.5 - 75mm | 1.8 - C | 2/3" | C | Adjustable Iris | 52mm x 100.5mm |
| VX620 | 12.5mm | 1.4 | 11mm | C-mount | Fixed Iris | 30mm x 27mm |
| VX660 | 16 mm | 1.4 | 11mm | C-mount | Fixed Iris | 30mm x 29mm |
| VX670 | 16.0mm | 2 | 16mm | C-mount | Fixed Iris | 30.0mm x 33.16mm |
| 1616-C | 16.0mm | 1.6 | 2/3" | C | Fixed Iris | 28mm x 24.8mm |
| VX750 | 25.0mm | 1.4 | 16mm | C-mount | Fixed Iris | 30mm x 32mm |
| 2514UK2 | 25.0mm | 1.4 - 16 | 1" | C | Adjustable Iris | 32mm x 39.4mm |
| 2516-C | 25.0mm | 1.6 | 1" | C | Fixed Iris | 28mm x 19.5mm |
| EL1025B | 25.0mm | 0.95 - 16 | 1" | C | Adjustable Iris | 46mm x 47mm |
| EL1025IR | 25.18mm | 0.95 - 16 | 1" | C | Adjustable Iris | 46mm x 47mm |
| VX850 | 35.0 mm | 2.2 | 16mm | C-mount | Fixed Iris | 30mm x 34mm |
| 3516UK2 | 35.0mm | 1.6 - 16 | 1" | C | Adjustable Iris | 32mm x 42.75mm |
| VX990 | 50.0mm | 2.9 | 16mm | C-mount | Fixed Iris | 30mm x 43mm |
| 5014 | 50.0mm | 1.4 - C | 1" | C | Adjustable Iris | 48mm x 51.5mm |
| VX970 | 75.03mm | 2.8 | 16mm | C-mount | Fixed Iris | 41mm x 64.97mm |
| 7514 | 75mm | 1.4 - C | 1" | C | Adjustable Iris | 62mm x 83mm |