Standard and custom CCD/CMOS lens assemblies for board and miniature camera applications including digital photography, video conferencing, surveillance, barcode scanning, machine vision and medical systems.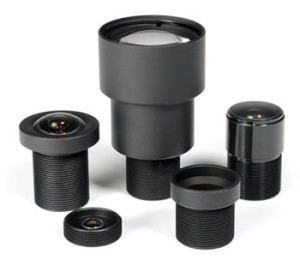 Universe's CCD/CMOS lens assemblies are ideal for your board and miniature camera applications. Standard lens assemblies are available in 2/3"-1/4" formats and a wide range of focal lengths. A sampling of stock focal lengths is included below. We also have pinhole CCD lenses for wide angle viewing. Our C-mount adapters and other accessories – including mounts – are also in stock to help you integrate our lenses with your system. Other value-added services include special coatings, custom apertures, custom packaging, and anti-vibration assembly techniques. Please call applications engineering to discuss your application and the wide range of lens options available from stock ... from Universe.
Applications Include: – Digital photography, TV telephones, video conferencing, surveillance, barcode scanning, medical systems, machine vision, and relay systems.
Initially, CMOS (Complementary Metal Oxide Semiconductor) was limited because of its inherent noise, however, CMOS imaging technology is now trending to become the dominant imaging technology. The original architectural design was essentially analog, and the concept of integrating the image processing features with System On Chip (SoC) technology had not been considered.