Standard And Custom High Resolution Lens Assemblies For OCR Systems, Film Scanners, Barcode Scanners, Digital Photography And Bill Counters.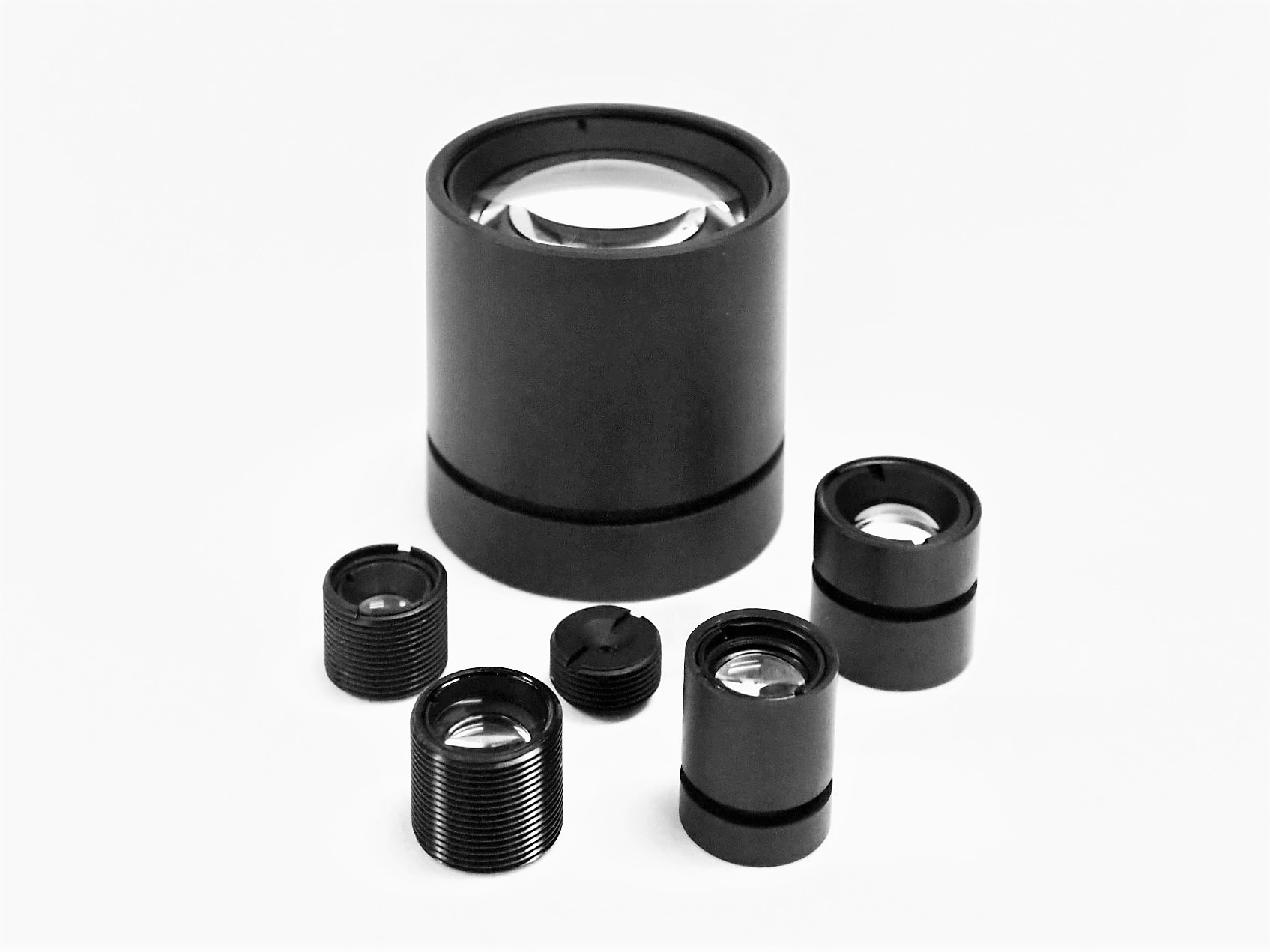 Universe image and barcode scanning and optical character reading lenses are your best choice for short track length applications using both conventional and line scan sensors. Used in both stationary and hand held scanner applications, they offer flat field performance. The lenses are also suited for optical inspection and other instruments. Focal lengths from 8-112 mm and F-numbers as fast as F/2.0 are in stock now. Threaded or straight barrels allow easy mounting. Custom packaging and apertures are easily accomplished with this lens style.
Applications Include: – Hand-held image scanners, full-page image scanners, film scanners, bar code scanners, OCR systems, digital photography, bill counters, film scanners.
View Products: Image and Barcode Lens Assemblies
Click on a Part Number to view product details and an outline drawing.
| Part Number | Focal Length | F/No. | Sensor Size | Mount | Dimensions (diameter x length) | Attribute: Lens Application |
| --- | --- | --- | --- | --- | --- | --- |
| TS-28RW | 28.45mm | 3.6 | 28.0mm | Straight | 16.0mm x 15.9mm | Visible |
| TSC-21RW | 20.57mm | 4.2 | 23.1mm | Straight | 12.0mm x 12.5mm | Visible |
| CR-8.5 | 8.50mm | 4.5 | 6mm | M10P=0.5 | 10mm X 8.5mm | Visible |
| DYC-11 | 11.2mm | 4.5 | 11.8mm | M10 P=0.5 | 10.0mm x 8.1mm | Visible |
| TS-12 | 12.0mm | 4 | 11.8mm | Straight | 10.0mm x 12.5mm | Visible |
| GT-12M | 12.5mm | 2.9 | 16.0mm | Straight | 24.7mm x 31.2mm | Visible |
| TK-11 | 13.0mm | 1.1 | 6.7mm | Straight | 15.9mm x 16.5mm | Visible |
| UD-56 | 13.0mm | 5.6 | 11.0mm | M11 P=0.5 | 11.0mm x 6.0mm | Visible |
| PL-16B | 15.5mm | 1.6 | 12.0mm | Straight | 20.0mm x 20.0mm | Visible |
| QJ-294RH | 15.18mm | 4 | 13.5mm | M10P=0.5 | 12.0mm x 15.0mm | Visible |
| ND-56 | 20.5mm | 4 | 13.0mm | Straight | 11.0mm x 9.2mm | Visible |
| TSC-21 | 21.0mm | 4.2 | 23.15mm | Straight | 12.0mm x 12.5mm | Visible |
| 60B-1 | 24.0mm | 1.6 | 11.0mm | Straight | 23.0mm x 21.0mm | Visible |
| 60B-1F56 | 24.0mm | 5.6 | 11.0mm | Straight | 23.0mm x 21.0mm | Visible |
| DL-2540 | 25.0mm | 4 | 21.0mm | M13 P=1.0 | 13.0mm x 13.0mm | Visible |
| RE-32HW | 28.0mm | 5.6 | 26.4mm | Straight | 16.0mm x 18.0mm | Visible |
| TS-28 | 28.45mm | 3.6 | 28.0mm | Straight | 16.0mm x 15.9mm | Visible |
| SL-36 | 36.0mm | 3 | 30.0mm | Straight | 16.0mm x 15.0mm | Visible |
| MT-49S | 49.0mm | 5 | 43.3mm | Straight | 19.0mm x 17.5mm | Visible |
| GLS-00003 | 53.5mm | 5.2 | 28.0mm | Straight | 25.4mm x 38.1mm | Visible |
| SL-3 | 76.0mm | 2.8 | 43.3mm | Straight | 38.0mm x 58.1mm | Visible |
Imaging Lenses and Barcode Lens Assemblies News