Medical and Forensics
Medical and Forensic Lenses from Universe Kogaku
Our custom lens assemblies are designed to be used in all types of medical imaging. Medical imaging is the process of creating images of the human body, from the internal organs, to skeletal imaging, to microscopic diagnostic imaging. Universe Kogaku manufactures devices used in endoscope couplers, fiberscope couplers, diagnostic camera hand pieces, and medical X-ray scanning. Our Medical Imaging Lens assemblies include a standard offering of the most desired relay, 3 CCD relay, mounted and bare achromatic lenses. You will find the most popular combinations of F/no., focal length and back focal length available off-the-shelf, designed for use with today's high-resolution diagnostic cameras. We produce products that are extremely durable, well made, and very functional. If you are looking for custom lens assemblies for your medical systems, we have dozens of products that you can browse through and you can always talk to one of our qualified experts. We can provide you with recommendations and advice for your lens assembly. Universe has full design capability paired with years of manufacturing experience allowing us to produce any special lens.... in any quantity!
Lenses for the Medical and Forensic Industry
Medical and Forensics Optics News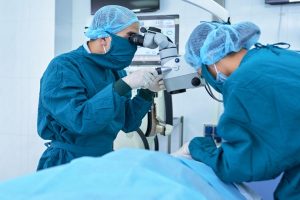 From prostate surgery to gallbladder procedures to heart surgeries, robots are already mainstays in the operating room.  Robotic surgery is currently being performed using the da Vinci™ surgical system, which is a unique set of technologies that include a camera, a magnified screen, a console and specialized 'arms' for holding the surgical instruments.