Get the exact Precision Optical Lens Assembly you need for your next product design.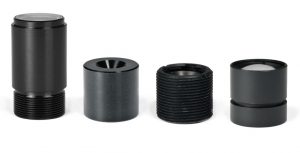 Comprehensive project design cycle assistance by qualified lens application engineers, not salespeople. We provide your optimal lens solution by addressing all of your design considerations – from specs, to budget, to timetables – realizing that optics are not a stand alone component. We understand electrical and mechanical requirements and integrate our lenses into your system with this in mind. Through this approach, custom lens designs from Universe can often reduce system cost by eliminating the need for other design components or modifications.
Complete custom design capabilities from concept to prototype to production provide ideal solutions for unique designs. We have full plastic optics capability for both lenses and barrels. Our facility contains the best in lens manufacturing and inspection equipment including a spectrophotometer, video MTF bench, laser interferometer, optical collimator bench, in-house single and multi-layer coating, full computer-aided lens and coating design and much more.