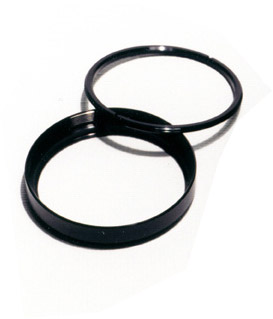 Universe stocks a full range of neutral density skylight and closeup filters.
When combined with these step rings, the filters will fit most common lenses.
The first 3 digits of the part number indicate the lens end filter thread size that the step ring will mate with. The final two numbers are the mounted filter size that the step ring will accept.
The following list shows our in-stock step rings:
View Products: Step Rings
Click on a Part Number to view product details and an outline drawing.
| Part Number | Lens End Filter Thread (mm) | Mounted Filter Size (mm) |
| --- | --- | --- |
| STP-27037 | 27 | 37 |
| STP-36546 | 36.5 | 46 |
| STP-37552 | 37.5 | 52 |
| STP-40546 | 40.5 | 46 |
| STP-40552 | 40.5 | 52 |
| STP-43046 | 43 | 46 |
| STP-43052 | 43 | 52 |
| STP-46052 | 46 | 52 |
| STP-49046 | 49 | 46 |
| STP-49052 | 49 | 52 |
| STP-52046 | 52 | 46 |
| STP-55046 | 55 | 46 |
| STP-55052 | 55 | 52 |
| STP-58046 | 58 | 46 |
| STP-58052 | 58 | 52 |