In the quest to explore the solar system and all the celestial bodies, the National Aeronautics and Space Administration (more commonly known as NASA) is continuously sending its mechanical astronauts to outer space for planetary surface navigation. Be that as it may, capturing high-resolution images in a volatile space environment and under varying lighting conditions is a tough challenge. That being the case, NASA also develops technologies to enhance the operation of these planetary rovers, allowing them to gather detailed images of the planets in the desolate, airless atmosphere and its uneven terrain.
Virtual Bumper Systems
An enormous rover named K-REX2, developed by Ara Nefian — the senior scientist who leads the Lunar Mapping and Modeling project at NASA Ames Research Center, was deployed for this task. The Power over Ethernet (PoE) technology connected the camera and laser to sensors, capturing high-quality images in airless environments.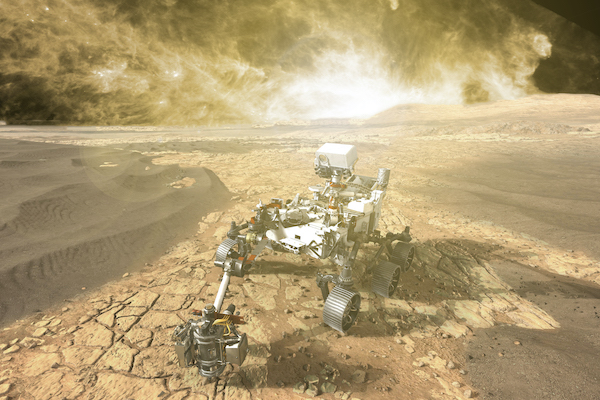 Artificial Intelligence
Researchers are using machine learning or Artificial Intelligence (AI) to put their best foot forward in the pursuit of planetary exploration. Using advanced AI, researchers are developing deep learning algorithms to perform critical image observation. Some of the world's largest space agencies — including, of course, NASA — are now using global path planning and local path planning techniques to design a route map for planetary rovers. The global path planning technique focuses on discovering high-level routes for rovers based on prior knowledge of the surroundings. The local path planning technique, on the other hand, relies heavily on sensory input to ensure that global plans are achieved without any damaging collisions.
These adaptive methods play a crucial role in integrating planetary rovers with the pivotal facilities, enabling them to interact with all types of environments. The use of advanced AI, PoE, and virtual bumper systems in the exploration of planetary systems has yielded exceptional results.
One of the most common elements in all of these navigation systems, something that made these projects successful, was the precision lens. It was only with the aid of these lenses that the planetary rovers could capture high-resolution photos and videos, and the hazard detection vision systems were able to create a route map and avoid collisions.
At Universe Kogaku, we have a team of professional technicians that can design custom lenses that can be further used in various planetary navigation systems. To discuss your specific requirements, please call us today at 1-516-624-2444.